Website Development
Autopro Automation Consultants Website & Launch Campaign
Shortly after joining Autopro as Marketing Manager, I completely re-developed their outdated website.
The project entailed:
Writing a complete plan for the website including scope, schedule, cost and measurable outcomes, and gaining approval from the senior management team
 Developing the site architecture and overarching messaging
Managing internal and external parties to create the visual design, develop the site and write all content
Launching the new site internally and externally
Internal Launch
Included pre- and post-launch posters in all office locations, a company-wide lunch 'n learn and a fact-finding contest.
External Launch
Included an email campaign, social media, and a press release.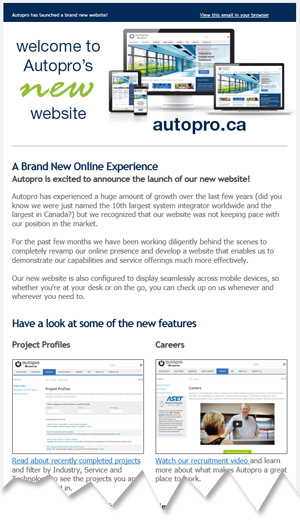 Have you seen something you like and would like to chat? Drop me a line.
Check out what I'm up to on social media.